The United Nations Educational, Scientific and Cultural Organization (UNESCO) expressed its interest to help secure Sri Lanka's Intangible Cultural Heritage (ICH) on 26 September, while issuing a warning that Sri Lanka is fast losing the prized practices as they 'are fading away rapidly.'
"There is extraordinary value to Sri Lanka's Intangible Cultural Heritage. With all your unique rites and traditions, performing arts, weaving practices and much more, you are sitting on a gold mine and possibilities are endless" said Eric Falt, Director and UNESCO Representative to Bhutan, India, Maldives and Sri Lanka on 26 September. Visiting Director Falt was addressing the Minister of Industry, Commerce, Resettlement of Protracted Displaced Persons, Cooperative Development, Skills Development & Vocational Training (ICTPDPCDSDVT) Rishad Bathiudeen on 26 September in Colombo joined by Himali Jinadasa, UNESCO Focal Point – Sri Lanka, R.D.S.Kumararatne the Director General of Tertiary and Vocational Education Commission, the Director General of the University of Vocational Technology Nilmini Diyabedanage and Heshani Bogollagama, Chairman of the National Craft Council.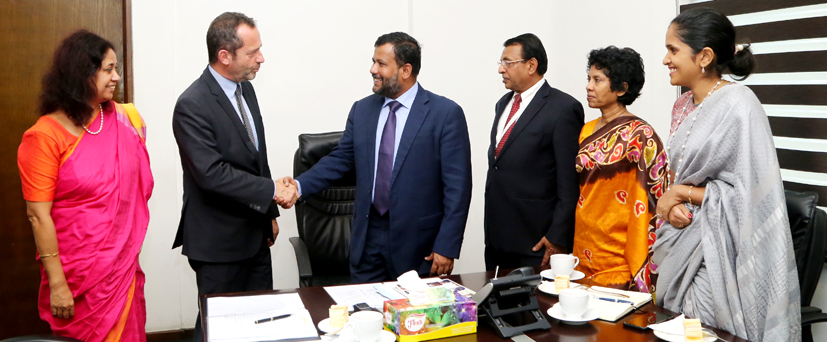 Explaining UNESCO's previous successful efforts in ICH, the visiting Director Falt discussed their widely reported work in West Bengal, where cultural heritage practices sheltered in remote villages were transformed by UNESCO. His message was to call Sri Lanka to adopt the processes to secure local ICH practices.
"Aside from the world heritage sites, the ICH practices here are not fully known and promoted. Sri Lanka itself has 100s of years of traditions" said Director Falt and added: "Many of these traditions are fading and sadly, we don't even know all of them. A major mapping exercise of Lankan ICH practices is needed, followed by field mapping of all intangible practice locations and traditions here. Therafter, ICH practices have to be inventoried, eco systems to be identified and promoted and economic livelihoods of the communities to be transformed.
"What is important is that the window for securing ICH practices here is very short" Falt said. "UNESCO can help identify Sri Lankan ICH". He gave as an example the case of Bangali Patachitra scroll paintings. The ancient art of Patachitra and its techniques are now promoted by UNESCO. What's even more important is that the income of Patachitra artists have multiplied eight-fold after UNESCO's efforts.
UNESCO's work in West Bengal was so successful that we are now franchising the model to Rajasthan. "In the same way, UNESCO would be glad to partner in securing Sri Lankan ICH. We will help you provide value for money. We need to ensure that tourists visit these heritage locations since tourism is an economic force in Sri Lanka-and at the same time give better recognition for these rural artists so that the livelihood of these people are transformed. There's an enormous area to be covered in Sri Lanka-from folk-arts to stilt-fishing. But there is no time to lose. The high speed of modernization can erase this opportunity which appears to be fading away very fast."
Minister Bathiudeen welcomed Director Falt's suggestions. "I welcome UNESCO's assistance which is encouraging" he said and added: "Sri Lanka has 250 villages registered as 'craft villages.' 30000 craftsmen are also registered under my Ministry. We need to perform a National Crafts Mapping but we do not have the expertise. Each Province has its own arts and craft traditions but due to the lack of brand identity for them, our traditional craftsmen in Provinces do not have sufficient income. In this background, I welcome UNESCO's assistance which is encouraging. Many well-known local arts and craft traditions such as the Kandy Pageant do not have a way to safeguard them. The TVET mechanism under my Ministry is trying to develop a program to sustain these practices. We are aiming to identify specific areas such as drumming, regional dance styles etc so that an inventory could be set up."
Sri Lanka ratified the 2003 'UNESCO Convention for the Safeguarding of the Intangible Cultural Heritage' Convention on 21 April 2008. Patachitra is an ancient storytelling art form of West Bengal and Orisha dating back to 13 century and its widely popular even today. It uses paints and colors made from plants for drawing and uses religious deities and nature as its muses.