PARLIAMENT BUDGET  SPEECH BY HON RISHAD BATHIUDEEN, MINISTER OF INDUSTRY AND COMMERCE IN PARLIAMENT ON 12 NOVEMBER 2014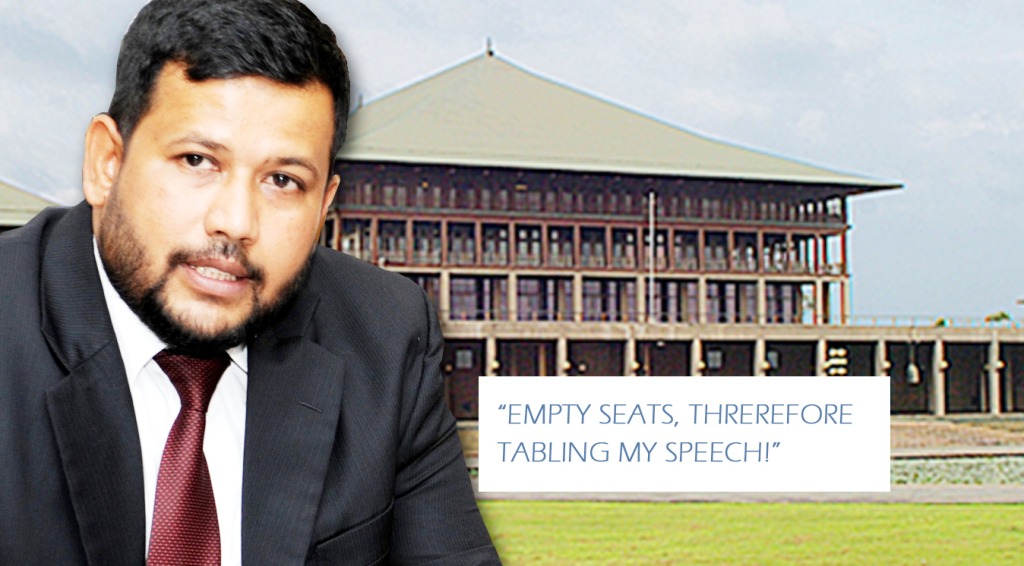 "My Ministry has prepared a comprehensive speech to be delivered by me today on the performance of my Ministry. However, with so many empty seats, I have decided to table it" said Minister Bathiudeen.
The tabled speech, appears in full below:
In contributing to this process, the Ministry of Industry and Commerce plays a dynamic role in the development of the industrial sector as well as Sri Lanka's international trade. It is the key Ministry responsible for promoting industrial and export development in the country within the wide policy framework of Mahinda Chintana spelt out by the government.
This Ministry which is the policy formulating entity for the industrial sector, international trade and exports, has taken several initiatives to increase sectoral performance with emphasis on diversified high value added industry base, high economic growth, more employment opportunities, environmental sustainability, sustainable industrial and trade development, and regional industrial development.
INDUSTRIES
We welcome important measures provided for industrial development through Budget 2015. These include one stop service center providing banking, quarantine, quality standards and other trade services through a computer network will be established at Customs, granting accelerated depreciation provision and exemption from income tax on dividend provided they undertake over US$ 2 million investments on machinery and equipment, proposal to implement a pension scheme for employees in the apparel industry to improve job attraction and security, and the expansion of triple tax deduction on research, innovation and brand promotion, to export industries.
I commend the proposal to provide lands on long term leases to set up 300 new factories in every divisional secretary area in the background of improved prospects for export and import competing industries. I have no doubts that this will be a strong stimulant for our industry and manufacturing sector.
APPAREL
Hon Sir,
Sri Lankan Apparel Industry is the most significant and dynamic contributor for the economy with more than 40% share of annual exports and is the largest manufacturing industry providing direct and indirect employment opportunities to around 300,000 Sri Lankans. Such Lankan apparel firms as Brandix Lanka and MAS Holdings now even have manufacturing plants abroad, becoming multinational corporations.
Our aim is to raise export earnings of high value tea, apparel, handlooms and rubber products to US$ 15 billion by 2020. Our vision for tea, apparel and cinnamon exports is to position Sri Lanka among the "Top 10" high quality product manufacturing countries in the world by 2020.
As a positive step in this direction, last year, we recorded historic $4.3 Billion apparel export revenues, thanks to our committed apparel industry. During the first nine months of 2014, cumulative exports earnings stood at $8.28 Billion of which cumulative apparel exports for the nine months are provisionally estimated at $3.6 billion.
To popularise the positive image of Sri Lankan apparel brand in the global markets, the "International & Local Image Building Programme" of JAAF was launched. This effort is to differentiate Sri Lanka as having a world class reliable manufacturing, networking and establishing the country and as a top apparel supplying destination among buyers and global consumers. JAAF has a membership of 450 textile and apparel manufacturers, buying houses, accessory manufacturers, who employ more than 300,000 people.
Even non-BoI apparels need to be mentioned here. As at 15th September 2014, $31.739 Mn of non-BoI exports from January-September have been approved by the Export Division of my Ministry. These are apparel exports made only by manufacturers and non-manufacturing exporters registered under the Ministry and all non-BoI apparel exports. This approval was for 20,368 meters of clothes.
Integrating global high tech to our apparel manufacturing, we have taken steps to implement the online apparel export documentation system to simplify the export documentation procedure in collaboration with Sri Lanka Customs under the global ASYCUDA System.
In our belief that not only the well organised apparel sector, but the entire value chain of Sri Lankan textile, fabrics and garments should be catered to, my Ministry is actively working to strengthen the SME apparel and fabric sectors too.
We believe that the SME apparel sector as an important segment due to its relevance in employment and livelihood, and implemented a Productivity and Energy Improvement Programme for them, and allocated 7 Mn through our leading apparel trainer under my Ministry, the Sri Lanka Institute of Textile and Apparel (SLITA). 84 SME level Apparel factories benefitted from these facilities to develop production staff in the SMEs. 06 SME factories benefitted from competitiveness improvement programs. Ten institutional training programs were conducted with 692 employees in SLITA Skill development for SME apparel sector.
As per SME apparel development, I commend the Budget 2015 proposal to provide modern machinery and equipment for small and medium handloom industries to expand to cater global markets and thus investors undertaking new investments in excess of Rs. 500 million being given a 7 year half tax holiday.
Our efforts even go beyond SMEs to cottage industry levels where we directly support the rural population. Establishment of Apparel Based Cottage Industries' project is implemented in 13 divisional secretariats at a cost of 93.63 Mn supporting livelihood of more than 2000 families.
In 2013/'14, the Textile Industry Development Division of my Ministry also registered 16 factories, 01 liaison office and buying office and issued 18,000 certificates of origins to exporters to EU countries.
RUBBER
Sri Lanka's rubber industry is historic. We are one of the best natural rubber suppliers to the world. Several rubber multinational giants including Loadstar, Ansell Lanka, and Trelleborg Lanka, etc. have operations here.
Cementing our reputation in global rubber industry, the first ever Global Rubber Conference was held in Colombo this October successfully. The event saw the coming together of delegates from 25 countries representing the United States, Europe, East Asia, North Asia and ASEAN, and the only two global rubber awards at this event was won by two Lankans.
The government's aim is to raise export earnings of high value tea, apparel, handlooms and rubber products to US$ 15 billion by 2020 and in this light, we have identified that rubber industry has the potential to become a dollar three billion industry by 2020.
As we believe and support a policy that rubber product exports rather than raw rubber exports to be prioritised, we commend the Budget proposal on further strengthening the CESS applicable on the export rubber in primary form.
In 2013, Sri Lanka exported $72 Mn of natural Rubber and another $887 Mn rubber finished products. This 2013 overall total of $ 960 Mn is a 100% increase, from exports of five years ago in 2009.
Supplying both natural and synthetic rubber in parallel, there is a good possibility that we can strategically become a "polymer hub", or at least a "natural polymer hub" to the world. With Sri Lanka's historic (natural) rubber reputation, I believe that is a viable option that we all can explore and implement.
I also commend the Budget initiative to increase allocation to Department of Rubber up to Rs. 3500 Mn.
At a cost of Rs 3 million, we are also making new enhancements to the Database of Rubber Products.
FOOD INDUSTRY
I commend the Budget 2015 initiative to revise customs tariffs to facilitate import competing industries so that our food processing sector development will be speedier.
As a key food industry supporting event by my Ministry, the Profoods/Propack exhibition was conducted successfully for the thirteenth time this August, with an SME pavilion with 6 SMEs, and with food and packaging industries from 9 foreign countries joining. 32500 visitors attended the event. Our investment here was Rs 1.5 million. The event was joined by a leading agro exhibition event called AgBiz 2014.
Food and many other sectors are allied to packaging industry and to enhance this sector, my Ministry conducted the "Lanka Pack Exhibition" in collaboration with Sri Lanka Packaging Institute (SLIP) in July 2014.
To bring the Sri Lankan food processing industry in par with global standards, we selected 27 industries for the food safety certification programme for them to obtain food quality and safety related certificates such as ISO 22000, HACCP, SLS and GMP from a recognized institution. This was as at 15 September 2014.
Taking food awareness to the rural areas, such programmes were held in Gampaha and Kalutara Districts with participation of 50 industries.
SPICE INDUSTRY
The importance of Sri Lanka's spice in its history of trade cannot be understated. Therefore I commend the Budgetary initiative to impose a cess on following spices for the growth of spice sector. This budgetary measure will help increase cultivation of these crops by maintaining a high level of cess on primary commodity exports.
My Ministry also took several steps to support this sector.
We are pleased to report that spice exports in 2013 stood at $329.4 Million. This is a strong 40% growth from 2012's $ 235.5 Mn.
For the first time in the history of Pure Ceylon Cinnamon, EDB under my Ministry issued licenses to 13 qualified exporters to use Pure Ceylon Cinnamon logo in their exports. We also initiated measures to register Pure Ceylon Cinnamon in Mexico.
To address lack of over 35,000 skilled workers and lack of knowledge and skills in preparing cinnamon safely and hygienically my Ministry with the Spice Council has initiated a project to enhance the compliance and productive capacities and competitiveness of the cinnamon value chain in October 2013 funded by WTO/STDF (Standards and Trade Development Facility) and UNIDO (United Nations Industrial Development Organization. The Government has allocated Rs. 28 million from the National Budget 2013 for this project.
A range of regional development programmes including Assistance Scheme for  the promotion of Turmeric cultivation in Vavuniya, Awareness programme for fruits, spices, value added tea, cut foliage etc,  were conducted.
Realising the importance of historic Ayurveda tradition and its potential in tourism, the Ayurveda Expo Exhibition in May 2014 has been conducted successfully.
As for Spice Sector plans in 2015 a program to encourage local spice industries to produce value added products to export market with the provision of 50% of the total estimated cost for the technology improvement and steps to encourage spice producers to obtain food safety and quality certificates are planned.
BOAT BUILDING AND ALLIED INDUSTRIES
Sri Lanka has a great advantage to become the hub for boat manufacturing in the Asian region due to its strategic location, highly trainable workforce and the labour cost advantage.
The importance of boat building industry is not only in terms of its strength as a non-traditional growth sector, but also in attracting more tourists to Sri Lanka.
As the Industry Minister, I am proud to announce to the House of truly Sri Lankan achievement by Colombo Dockyard company. In August 2013, the Colombo Dockyard launched a fully Sri Lankan made 400 Passenger and 250 Ton Cargo Vessel called "M V Coral". India took the delivery of it. One more similar vessel is expected to be delivered in early January 2015.
I am also pleased to say that our boat exports that were at $56 Million in 2012 have increased to $ 82 Million in 2013 showing the growing demand for our quality boats.
EDB also successfully concluded Sri Lanka's first ever on water Boat Show this October at Dickowita harbour. Buyers and boat experts from S. Korea, Bangladesh, Maldives, and Seychelles gathered at this event.
The International Council of Marine Industry Associations (ICOMIA) regional group meeting was held in parallel to this event, bringing together reputed international marina experts in Colombo.
PHARMACEUTICAL & COSMETICS INDUSTRY
I commend the Budgetary initiative to support the local pharmaceutical manufacturing by revising customs tariffs to facilitate import competing industries in this sector.
Pharmaceutical production has the potential to  graduate  to  an important export  markets  in  the  medium    We exported $ 2.5 Mn pharmaceutical articles in 2013 and upto August 2014, our exports stood at $2.62 Million.
More than 200 pharmaceutical products are manufactured locally, and the Sri Lankan pharmaceutical industry comprises 15% of the $380 million local market.
My Ministry plans to assist Sri Lanka Pharmaceutical Laboratory at University of Colombo and initial activities to provide infrastructure facilities to build up a pharmaceutical manufacturing industrial park in Sri Lanka have commenced.
We carried out the analytical work to 25 pharma companies and earned Rs 1,341,400 from January to August 2014. We have taken necessary action to purchase an Atomic Absorption Spectrometer for Sri Lanka Pharmaceutical Laboratory.
Some foreign and local companies are involved in in the cosmetic industry and they are manufacturing the products for local and foreign markets.
I am pleased to inform you that in 2013, we exported $ 5.79 Mn of cosmetics and by 2014 August, we exported $5.66 Mn cosmetics.
FOOTWEAR AND LEATHER INDUSTRY
347 companies are operating in Sri Lanka's footwear & leather industry, providing employment to 30000.
My Ministry with our Sri Lanka Institute of Textile and Apparel (SLITA) jointly established the footwear and leather goods training institute in SLITA to develop the local footwear and leather industries.
With the EDB, the footwear & leather goods exhibition was held in February for the 6th consecutive time to enhance the image of the sector. It has also increased the taxes (custom duty & cess) for importing footwear to protect local manufacturers.
My Ministry identified the 75 aces land at Marickckikatti in Mannar District and completed initial feasibility studies to relocated the tanning industry in it, and currently awaits for the land to be released to the Ministry.
CERAMICS INDUSTRY
Sri Lanka exports a wide product range of porcelain tableware, glazed wall and floor tiles, and ornamental & utility ware including figurines, decorations, kitchen utensils, bathroom accessories and studio pottery.
15 active export companies are involved and they provide around 5500-6000 direct & 7500 indirect employment opportunities.
Lankan ceramic products sell in top department stores including Macy's, Crate & Barrel and Pottery Barn in the USA, El Corte Ingles in Spain, Debenhams and House of Frazer in UK.
In 2013, we exported $40.44Mn ceramic products and in January-August 2014 $27.40 Mn ceramics were exported.
My Ministry has granted Rs. 8 Mn to the Geological Survey & Mines Bureau to conduct Ball Clay & mineral deposits identification surveys in Wayamba, Western and Southern Province. Central province survey has already been completed.
We are planning a Productivity improvement programme for ceramics to increase the competitiveness of the industry in the global market.
ICT & BPO 
Sri Lanka has a growing ICT and BPM sector that includes world class software firms such as Virtusa and MTI. The 2014 Global Information Technology Report (GITR) and the Networked Readiness Index (NRI) ranks Sri Lanka at 76, above India and Philippines. In fact, ICT/BPO is expected to be the key driver in Sri Lanka's "knowledge hub" plans.
Thanks to Sri Lanka's good resources, IT skills and English language ability of workers, this growth trend continued in 2013, as Sri Lanka's IT and business process management (BPM) exports totalled $ 719 Mn, increasing by 237% from 2007 exports. 77% of 2013 exports were under BPM.  Sri Lanka has now set a target of $5Bn IT & BPM exports by 2020 of which it expects 62% to be BPM while creating 200,000 jobs and 1000 start-ups by 2022.
When it comes to ICT and BPM service exports, I commend the Budget 2015 for measures to promote IT as a major industry and lift Sri Lanka to be among the "Top 30 IT destinations in the world over the next three years" and to raise foreign earnings to US$ 5 Bn and make it a major employment generation sector for youth by 2020.
I wish to inform the House of the good news on Japanese engagement with Sri Lankan IT sector. In September 2013, the Japan External Trade Organisation informed me that after JETRO's own research on many Lankan sectors, they have identified Lankan ICT/BPO sector as fit to receive Japanese development support. As a start, JETRO has invited a Lankan ICT/BPO delegation to Japan in the first quarter of 2015.
We are also keen to expand ICT development to the regions. To support these efforts, we have launched many new initiatives. The EDB under my Ministry has partnered with SLAASCOM to facilitate the first ever "Jaffna IT Week" to be conducted in December where 26 top CEOs from the Lankan IT & BPM sector will gather in a first time effort to yoke the northern Sri Lanka to national IT grid.
ELECTRICAL AND ELECTRONICS INDUSTRY
With booming ICT exports as well as increasing consumer electronic market, Sri Lankan electrical and electronic sector too is witnessing an expansion. Of the domestic market, more than 30% of market share belongs to Chinese imports while around 10-11% are Indian electronics.
Also, the total export value of electronic and electrical exports in 2012 at $ 297 million increased to $ 312.3 Million in 2013.
Currently 100 electronic and electrical manufacturers, employing 10000 are actively engaged in this sector making such items as Modular Panels, Printed Circuit Boards and even specialised batteries used in transformers. Some of them are collaborative foreign investment projects.
To spread the concept further in Sri Lanka, We extended financial assistance to organize the INCO exhibition to introduce new technology and high tech equipment of local Electrical and Electronic industrialists and also to find new markets for them. We supported in organising the INCO 2014 exhibition, the twelfth in the series held in June.
Also a Technical Support Centre has been set up with the University of Moratuwa (UOM) to improve the knowledge and technology of new incubators in small and medium Electrical and Electronic industry.
My Ministry is also planning to obtain quality & standard certificates for the local Electrical & Electronic products.
Hon Sir, having spoken about some of the some of my Ministry's achievements in Industries, I would like to highlight on our achievements in international trade.
BUSINESS
The development of private sector is one of the key activities of my Ministry. This is achieved through the Department of Registrar of Companies and the National Intellectual Property Office under my Ministry.
115,586 new registrations were made Achievement up to 15th Sep 2014of which 4801 were new Incorporations, 103,636 were new Document Registrations, 61were new Societies Registrations, 411were new Secretaries Registrations,  6,677 were new Public Contracts Agreements. These are strong signs of economic growth.
As of 15 September 2014 the National Intellectual Property Office completed 4506 Vienna Classifications in the period, issued 1065 certificates of registration, handled 645 ex parte inquiries,  received 368 patent applications for new inventions of which 171 have been processed, with 13 amendments and 33 published in gazette notifications. 408 industrial designs were processed and 79 were published in gazette notifications. among many other activities. The office has organized activities and actively participated in organizing fourteen (14) public awareness enhancement on the subject of intellectual property consisting of seminars/conferences and public lectures which were directed at various target groups.
Workshops were also held on the preparation of Patent application/patent drafting with the assistance of the World Intellectual Property Organization (WIPO) and a Fact finding Mission comprising of two experts assigned by WIPO conducted a Need Assessment Survey in coordination with the relevant institutions. At the Office' information desk 3568 Public searches have been conducted whilst 8545 advisory services have been given. Registrations of 23 IP Agents have been renewed. The office reports Rs 42.775 Mn as income up to 15 September 2014.
The Mantai Salt under my Ministry is a company which has two salterns under it-The Mannar saltern and Chemmani saltern. The Mannar saltern  produces normal salt, crushed salt and iodated salt. The Ministry is planning to reopen the Chemmani saltern factory aiming production of salt in future. In the year 2012, Mantai Salt Limited has developed 53 acres of extra saltern area at a cost of Rs. 25 Mn. and as a result, the average salt production of 4000 MT has increased up to 5500 MT.  Up to August 2014, the Mantai Salt has produced 4,643.7MT of salt and has earned Rs. 35.1mn. by selling of 3050.6MT of salt.
Kahatagaha Graphite Lanka Limited (KGLL) is the largest graphite mining organization in Sri Lanka, which operates under-ground mining up to 2000 ft. depth at Kahatagaha, in the Kurunegala District. KGLL is the only public entity which has capacity and strength for mining of graphite. During the reviewing period of year 2014, the company has produced 548 MT of graphite and exported   5 MT of graphite. The total earnings of 2014 were Rs. 79 Mn. and the Net profit was Rs.1.82 Mn.
Of Lanka Ashok Leyland's Rs 1.558 Billion total revenue in the 2014/15 first Quarter, 96.7% came from new vehicle sales, 1.53% came from vehicle repair income and the rest came from generator sales as well as vehicle spare parts. After tax profit for the period was Rs 14.7 million. Earnings per share stood at Rs 4.06. Net Cash & Cash Equivalents at the End of the Period stood at Rs 29.62 million. The percentage of shares held by the public as on 30th June 2014 was 2.68%.
SME SECTOR
My Ministry is supporting the SMEs too, through our National Enterprise Development Agency. New activities have already been included to the new Corporate Plan of NEDA aiming to strengthen SME sector. NEDA has launched the first ever SME Business Issue Tracker in South Asia this year with the valuable support of the Asia Foundation. It's District Enterprise Forums initiative is the other innovative method to integrate regional SMEs.
INTERNATIONAL TRADE
Thanks to the committed vision of HE the President Mahinda Rajapaksa, many international trade related developments have been reported thanks to the Department of Commerce and EDB functioning under my Ministry and also earnings from exports have increased in the first nine months of 2014 and in the same period.
Exports in September 2014 rose to US dollars 903 million while the cumulative January to September 2014 earnings rose by 13% to $8.28 Bn. The largest contribution to the growth in September 2014 was from textiles and garments followed by coconut and printing industry products. Export earnings of textiles and garments grew by 4.4% in September 2014
Up to 31st of August, 2014, staged 16 Sri Lanka specific (single-country) promotional campaigns in host countries, hosted 19 trade delegations to Sri Lanka and handled 49 19 trade delegations from Sri Lanka to overseas. 40 exhibitions were promoted in Sri Lanka while 18 Lankan exhibitions were promoted abroad.
41,009 Certificate of Origins (COOs) were issued from January to August, 2014. The department initiated the issuance of GSP Certificate of Origins under Hub Operations. With the EDB a seminar on Norway GSP+ Scheme was held in March. Issuance for EU- GSP Certificates of Origin for cigars manufactured in Sri Lanka using the unprocessed tobacco imported from Indonesia, under Cross Regional Cumulation between the SAARC and the ASEAN, was initiated.
Initiation of actions to obtain Quarantine clearance for exports of Sri Lanka's Banana to China, initiated measures to register Pure Ceylon Cinnamon in Mexico, arranged for signing of Air Services Agreement between Sri Lanka and Government of South Africa, successfully completed the Afro-Lanka Business Forum and Business Matchmaking Programme on 22nd June, 2014 in South Africa, facilitated the visit of a 14 member French; Trade and Investment delegation to Sri Lanka in August, organized a delegation to Belgium in May 2014 in coordination with the European Chamber of Commerce of Sri Lanka, facilitated the participation of 135 Sri Lankan Companies, including SME from  gems and jewellery, tea, Batik, handicraft, coir, Ayurvedic products and giftware at 2nd China South Asia Expo from in June in Kunming, facilitated participation of West Japan Import Fair 2014, Japan in May with 11 Sri Lankan companies, hosted Sri Lanka Capital Market Day with the London Stock Exchange in May, in London with Sri Lanka High Commission in the UK.
EDB, the apex export facilitator of the country, initiated a new Strategic Plan for the period 2015-2020 in consultation and co-operation with the public and private sector agencies and obtained the financial assistance of VEGA FEG SL Project of US/AID to formulate the Plan with consultancy assistance by MTI Consulting. EDB initiated formulation of the National Export Strategy (NES) for the period 2015-2020 in consultation and co-operation with the public and private sector agencies and EDB obtained technical assistance from ITC Geneva and an ITC pre-engagement mission which visited Sri Lanka in August 2014 and conducted consultations with relevant stakeholders.
A 03 member ITC delegation visited Sri Lanka in July to carry out a Performance Improvement Road Map (PIRM). Under the Chairmanship of Hon. Minister of Industry & Commerce one Exporters' Forum Session was held and a total of 53 issues were taken up at this Forum during the period. As part of its Market Development Program, participation in the trade fairs of ALIMENTARIA, Barcelona, Spain, SEA FOOD EXPO GLOBAL 2014, Belgium, SIAL, Canada, INTERZOO, Germany, Paper World 2014, Germany, IFT 2014, New Orleance-USA, FOODEX 2014, JAPAN, International Horticulture (IHK)-Korea , 'Japan IT Week' Trade Exhibition, second China South Asia Exposition in Kunming, GULF FOOD 2014,, SAITEX Trade Fair-South Africa were organized during the period under review. Among the outward buying missions by EDB were the delegation to Myanmar Construction Summit & Market Development Programme, trade delegations to Bahrain, Israel, Tunisia, India, Maldives, Brazil and Maldives. The inward Buying Missions facilitated by the EDB were the Maldivian Delegation, the delegation from the General Administration of Quarantine Supervision, Inspection & Quality of China, delegation from the Fujian Province-China, 3 member Chinese  delegation, buyer delegation from Brinda's Singapore, delegation from Seychelles, delegation from Egypt, and Poland. Among the Local trade exhibitions organized by the EDB were the International Gem & Jewelry Exhibition FACETS 2014,  and the Footwear & Leather Fair 2014.
===================================================
BUDGET SPEECH – 66TH  BUDGET – 14 NOVEMBER 2012
Honourable Speaker,
His Excellency Mahinda Rajapaksa, the President, in his capacity as the Minister of Finance, presented the 66th budget of Sri Lanka, and eighth of this government, on 08 November mainly focussing on socio economic development, relief to the poor, and consolidation of measures of previous budgets. This budget is also indirectly supportive of export earnings in that measures to diversify domestic production by strengthening the SME sector, which is the backbone of our economy so that it enables us to cut down on our imports bill.
His Excellency the President, in his first term of office, stood firmly to eradicate terrorism from the country, and against all odds, he succeeded in achieving it. His second term of office, is dedicated to improve the economy of the country, and make Sri Lanka a trading hub, and wonder of Asia. The latest budget proposals integrate the SMEs, agro sector and tea production sectors so that the new vision for our economy expands to the base level contributories of our economy.
It appears that the economic policies, under the Mahinda Chinthana framework, are paying dividends to the country. Upon reflecting on the proposals of this budget, I feel that it is a constructive effort, not only towards uplifting of the rural socio economic conditions of Sri Lanka, but even towards the uplifting, of our industrial and exports development in a considerable way.
There is no better time to focus on the base layers of Sri Lanka's value chains than today since this is a time when our export destinations have become very challenging due to extended global recession and slow recovery in US and European Union, the recession effects in these markets also negatively impacting our other markets such as BRICS and China, extreme weather conditions also continuously threatening our export markets and even global food security and supplies.
The World Economic Outlook report released by the IMF last month paints a picture of sluggish growth for 2013. Accordingly the global recovery that already started has now weakened. In advanced economies, growth is now too low to make a substantial change in unemployment. And in major emerging market economies, growth that had been strong earlier has decreased. Relative to IMF's April 2012 forecasts, the latest forecasts for 2013 growth have been revised from 2.0 percent down to 1.5 percent for advanced economies, and from 6.0 percent down to 5.6 percent for emerging market and developing
economies.
I am pleased to stress that the government has been successful in domestic production efforts for import substitution. As HE Mahinda Rajapaksa announced during the Budget 2013 speech, we no longer import rice other than for the limited use in tourism and for the diplomatic community. We have managed to produce our full requirement of maize and black gram. Towards promoting import replacement activities, farm gate prices of agricultural produce have been maintained at attractive levels. I also commend the raising of the guaranteed price for paddy from Rs. 28/- to Rs. 30/- per kilo at present, to Rs. 32/- to Rs. 35/- per kg from next Maha cultivation season and guaranteeing of  Rs. 40/- per kilo for organic fertilizer used paddy to ensure a stable market environment.
I wish to praise the Budget 2013's initiatives on improving global competitiveness of handlooms and similar domestic resource based value added products and to complying with international product safety requirements. The proposal to allow such industries to claim actual expenditure incurred on product safety testing  and the proposal for a 2 year depreciation allowance for apparel and other manufacturing industries, to modernize with advance technology, machinery and accessories, and to reduce the Port and Airport Levy on their daily used consumable items from 5 percent to 2.5 percent to be able to maintain their global ranking in international markets,  supports the objectives of the handloom industry taskforce established by my Ministry in January this year.
The National Level Task Force on Handlooms that was formed on a high priority basis in December 2012 is expected to deliver value and professional structure to Sri Lanka's $ 13 Mn and growing handlooms sector. This effort will promote Ceylon Handlooms brand to the international markets and also will upgrade and modernise the handlooms sector to attract more youth to the industry to sustain its long term course.
More importantly, this is a collaborative effort by the Ministry of Industry and Commerce with various stakeholders such as the USAID, National Enterprises Development Authority (NEDA), University of Moratuwa, Export Development Board, Department of Textiles, Sri Lanka Institute of Textile & Apparel, and representatives from private sector handloom manufacturers. Our handlooms, in addition to the domestic market, are exported to Italy, Maldives,   Germany, France, United Kingdom, Thailand, Netherlands and Norway. According to the Exports Development Board (EDB) under my Ministry,  the handloom exports valued $ 0.90 Mn in 2009 rose in 2010 to $ 1.5 Mn and in January-October 2011, stood at $ 1.17 Mn. EDB expects the handloom exports to go up to $ 2.24 Mn in 2015. Sri Lanka's handloom sector is one of the low cost but high earning industries. Its annual production exceeds six million metres of looms with an estimated annual production value of Rs 1500 Mn ($ 13.19 Mn) all of which are absorbed by both local and international demand. The production is labour intensive and the industry consumes less electricity & utilities while generating higher employment.  At present, there are 511 weaving centres with 2971 weavers and more than 10000 looms in Sri Lanka assisted by 22 dying houses. More than 10000 personnel are engaged in the handloom industry. According to NEDA, there are 919 private sector handloom operators of which 536 are based in the East, operating 2454 looms. In the cooperative sector, 925 handlooms in 110 centres and under the Provincial Councils are 5169 handlooms in 511 centres. The key Lankan provinces for handlooms are the North Western, Western, and Central provinces. The eastern regions of Sri Lanka too were reputed for handlooms but the 2004 Tsunami disaster inflicted damage on the eastern production but despite this, eastern handlooms continue to command buyer appeal.
I am also pleased to inform the house that we are expanding handloom revival to textiles and apparel industry sector as well. "Ransalu", the national handloom show and one of Sri Lanka's longest events running for 21 years under my Ministry, has now been upgraded and expanded. I believe that it is time that we begin to harmonise handloom, textile, powerlooms & apparel and fabric sub sectors. The 22nd Ransalu event to be held this December has now been expanded to a national apparel, handlooms, and textile industry event and I invite you all to this event to be held at BMICH. I am also pleased to inform the House that even in handicrafts, we have made progress.  Handicrafts bearing Made in Sri Lanka have for the first time entered the global market thanks to the efforts of Dubai-based Fakih Group, the unique global player in the gifts and souvenir sector known for items with multinational cultural identities. This firm manufactures specialised gift items, souvenirs and handicraft preferred by global tourists. As a result Sri Lankan-made souvenir and handicraft products are now successfully selling in Dubai and Abu Dhabi, and also going to Viet Nam. Fakih Collections also has informed us that it is investing $ 2 to 3 million in Sri Lanka and later wants to expand further. It has already successfully enlisted villagers of Udaperadeniya in Kandy on self-employment.
Hon Speaker, I praise the 2013 Budget's proposal on the rubber industry in that it is proposed to accelerate rubber cultivation in Monaragala, Ampara, Vavuniya and Mullativue, targeting smallholders in those areas and efforts to develop high quality planting material to ensure increased yield in rubber plantation.  I am pleased to say that my Ministry is also taking a major step to upgrade our Rubber sector and rubber exports.  I am pleased to announce that my Ministry is launching the first ever national rubber industry  survey and are also now looking at creating high end rubber testing lab facilities that the industry needs. All of this will contribute to Rubber Masterplan which looks to generate $ 4 Bn rubber exports by 2022.
As the world's seventh largest natural rubber producing country, Sri Lanka offers many types and grades of rubber such as RSS, pale crepe, sole crepe, technically specified rubber and specialty rubber. Sri Lanka's rubber products are exported to sophisticated markets such as Europe and USA and do not have any problem in adhering to international standards. In 2011 the total rubber production (raw rubber and value added) generated over $ 1.1 Billion in terms of revenue. Rubber and rubber products also accounted for 10.4% of the total exports of the country, becoming third largest export category only below tea and exports leader, apparel. Value added Rubber accounted for 80% total rubber exports. Rubber coverage in Sri Lanka is about 125,000 Hectares of land and the annual production exceeds 153,000 tons.
I am also pleased that HE the President Mahinda Rajapaksa acknowledged in the latest budget of our aim to promote the IT/BPO/KPO industry to a billion dollar industry with 150,000 direct employments in the next 3 years. This will strongly contribute to our ICT exports. I am pleased to say that our ICT and BPO exports last year increased by 47 percent compared to 2010 exports and became our sixth largest export item earning $ 310 Million, employing about 65,000 persons. I highly commend the budget proposals to limit their IT personnel income tax rate at 16 percent and the proposal to reduce the telecommunication levy applicable to internet tariff from 20 percent to 10 percent to reduce the cost of broadband facilities.
Hon Sir,
I am also pleased to inform this august House of my new initiatives to lift our exports in the face of increasing turmoil in global markets. I wish to reiterate that we are not going to remain passive at a time when our export markets around the world turn more challenging due to the decline in leading segments and the downward revision of GDP projections for India and China. We are under no illusions that our exports are not going to be difficult in future.
In fact, we are taking active steps to safeguard our exports. I am pleased to inform this august house that I have been personally meeting and consulting many top Chamber members in the country with regard to our future exports strategies. As a result of these consultations during the last few months, we have now set up a Consultative Committee on Market Diversification representing the interests of a wider cross section of the economy.   We have moved our background agency Department of Commerce to the frontlines of export battle with the setting up of this Committee which is Sri Lanka's first ever national level initiative to address the growing turmoil its global export destinations.
The Committee is a cross-functional initiative is a collaborative effort of several key Ministries, the treasury and the private sector as well as various leading Chambers of the country including the Ceylon National Chamber of Industries (CNCI), the Federation of Chambers of Commerce and Industry of Sri Lanka (FCCISL), National Chamber of Commerce, National Chamber of Exporters, Economic Development Ministry, my Ministry (Industry and Commerce -and its Export Development Board and the Department of Commerce), Agricultural Ministry, Finance Ministry, Plantation Industries Ministry, the Treasury, the Tea Board, and the Joint Apparel Association Forum (JAAF) are jointly assisting in this initiative.
The CCMD will be chaired by the Secretary of Ministry of Industry and Commerce while the Department of Commerce of the Ministry will be responsible for the overall coordination of the Committee. The CCMD is tasked with better and bigger exports penetration to such emerging economies as China, Brazil, South Africa and Russia (among others) on an urgent basis. Equally important is that CCMD can also look into enhancing the coverage of Sri Lanka's present trade agreements (Indo-Sri Lanka Free Trade Agreement, Pakistan-Sri Lanka Free Trade Agreement, Asia-Pacific Trade Agreement, South Asian Free Trade Area and Global System of Trade Preferences) in time to come.
Also for the first time we held direct consultations with our leading exporters last September to find solutions to their issues and received very good responses. We also revived our exporters' forum and the third forum in the series was successfully concluded in July. But more importantly, as part of moving from simple exports to more complex products, we are looking at actively joining Regional Production Networks so that our exports become more market driven. To this end, I am pleased to inform you that the government's efforts to further open both Indian and Chinese markets, which are seen as difficult segments, have become successful.
As a result, the high level Indian trade delegation led by Indian Minister Hon Anand Sharma which arrived here last August, announced that India wants to double current trade volumes with us to $ 10 Billion by 2015 with $ 5 billion new Indian investments. And thanks to the initiative and request of Hon Basil Rajapaksa, our Economic Development Minister, India also agreed to set up two large-scale, dedicated, export manufacturing zones – one for automotive parts and the other for pharmaceuticals thereby giving us the first high level opportunity in regional production networks. Thereafter, a special Indian Textile delegation that arrived in September, which was the biggest such delegation to come here, announced, based on the initiative of Hon Basil Rajapaksa, that India will open their apparel markets to us and as a first step India has increased our five million export quota to eight million. Today I am also pleased to reveal of an important development in that, another high powered Indian business delegation is scheduled to arrive here next month.
But there is more. Our efforts to open China too is becoming successful. During 2007 to 2011, our exports to China under APTA alone increased by a massive 719 percent which shows our progress in market diversification to China. The high level Chinese official delegation arrived here last September, informed me that my request to allow Sri Lankan exports to enter China's growing FMCG segment is being positively considered by them.
On behalf of Sri Lanka's export community, let me extend my appreciation to the governments of both India and China for their support towards our exports drive despite their own growth slowdown.
We are not satisfied with regional and multilateral efforts. Going beyond from here, we are also moving down to business to business (B2B) levels. The successfully concluded bilateral business to business fora this year such as Sri Lanka South Africa business forum, Sri Lanka Singapore business forum, and Sri Lanka – India CEOs Forum as well as last year's Sri Lanka –Dubai business Forum are only a start.
However, this is not a solo journey. I and my Ministry need the support of all the stakeholders in this regard. This effort requires cross functionality of all stakeholders concerned. No less than a fundamental change in the mindset of officials of state sector institutions, specially institutions involved in our manufacturing, logistics, and exports, should begin to think differently if we are to avoid constant fire-fighting. The need of the hour is to understand that our exports have become a national priority and to take decisions based on requirements of the markets and act on them, rather than taking decisions of a narrow focus. Since this is a national priority, the situation now demands us to rise above our personal and political concerns. For us to realize our long term economic growth goals, it is essential that we must not deviate from our export diversification but should continue to collectively proceed as per our far sighted vision. In this regard, increasing our knowledge economy based exports such as ICT, KPO and BPO in combination with more direct investments in our vocational IT and English literacy segments are of high importance.
Finally, I am pleased to say that the 66th budget is a forward looking instrument, focused on development of all the sectors of the country.  Such a cross cutting effort, will no doubt result in the positive outcomes again, channelled to our exports and industry sectors thereby realising the objectives of Mahinda Chinthana vision.
Thank you.
---
Rishad, four other Muslim Ministers condemn allegations

12 JULY: Five Muslim ministers issued a joint statement in Parliament on Thursday (10) condemning the recent propaganda activities alleging that terrorism and extremism existed within the Muslim community in Sri Lanka.


The ministers included Leader of the Sri Lanka Muslim Congress (SLMC) and Minister of Justice Rauff Hakeem, Minister of Urban Affairs A.H.M. Fowzie, Leader of All Ceylon Makkal Congress and Minister of Industry and Commerce Rishad Bathiudeen, Minister of Productivity Promotion Basheer Segu Dawood, Minister of Local Governments and Provincial Councils A.L.M. Athaullah.
 

The joint statement by the ministers claimed that Muslims had been recuperating from the racially motivated attacks carried out against it and such allegations were like rubbing salt to the wounds.
 
The ministers further detested the idea that an arrest made in India of a person of Sri Lankan origin for the reason of espionage had inspired the allegations.
They said the Muslim community had lived in peace and harmony for centuries, contributing to the unity and territorial integrity of the country. They also requested that national authorities uphold the rule of law without permitting any further damage to the Muslim community. The ministers also promised to assist in any process to strengthen national unity, create a violence free society, achieve progress and prosperity and enhance communal harmony.
– See more at: http://english.rishadbathiudeen.lk/muslim-ministers-condemn-allegations/#sthash.a5rvNV7I.dpuf
CONCLUDED