Packaging Ind. hails Rishad's call for greenfield FDI
'Time we make it priority exports support sector"-Rishad
Industry praised Govt's support   
'Want int'l investments & tech'–SLIP's Perera
Despite the battering in green field FDI's to the South Asian region, Sri Lanka emerged stronger as such inflows continued unabated to the country. And it is time that the cross-cutting packaging industry made a priority sector of its own. "In 2013 most South Asian FDI recipients experienced a significant decline of 38% -except for Sri Lanka where the green field investments remained at a high level. I also believe it is time that we recognize the packaging industry as a priority exports support sector" said a keen Rishad Bathiudeen (Minister of Industry and Commerce of Sri Lanka) on 18 July in Colombo.
Minister Bathiudeen was addressing the inaugural event of the 17th edition of Sri Lanka's top packaging expo "LANKAPACK 2014" at BMICH, Colombo on 18 July. Organised by Sri Lanka Institute of Packaging, it is one of the most important International events in packaging, processing and material handling technology to be held in Colombo. Three large-scale Indian packaging firms, a Malaysian exhibitor, Japanese and Singaporean principals of some Sri Lankan packaging firms are among those taking part at this event which ends on Sunday 20 July.
"Packaging sector of Sri Lanka is considered to be a priority area under the policy framework of HE the President Mahinda Rajapaksa. Packaging is also an industry which is cross-cutting and fast moving. In fact, latest international packaging research suggests that the global packaging industry which stood at $799 Bn in 2012 is expected to grow at 4% per year till 2018. The global packaging industry sales are projected to increase to $ 824 Bn by 2013" said Minister Bathiudeen, and added: "It is no secret of the importance of packaging in Sri Lanka's international trade success. Good packaging also ensures the continuous presence of our products in the fast changing international markets. In fact, I believe it is time, that we recognize this industry, as a priority exports support sector. I believe we should also encourage international FDI investments to the packaging sector so that its development, is made faster. Since packaging is a long term investment I believe that green field investments are a good way forward since they can also transfer latest technologies. I am pleased to say that despite an overall decline in green-field investments to South Asia such investments to Sri Lanka have continued strongly. According to the UNCTAD, in 2013 most recipient countries of FDI in South Asia experienced a significant decline in green field projects except for Sri Lanka. In that, the total announced green-field investments in South Asia, declined by a strong 38%-except for Sri Lanka where the investments remained at a high level of $1.3 Bn according to UNCTAD."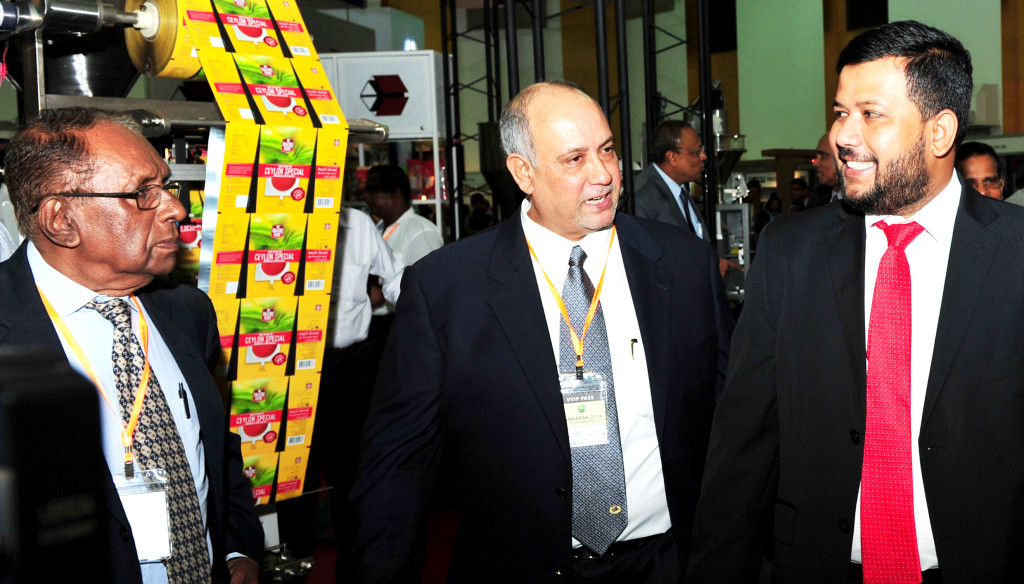 Disclosing the government's support to the Packaging sector, Minister Bathiudeen said: "There is no specific export category for packaging and therefore we are not able to indicate specific export growth for it. However, we believe that the growth of many related export products is an indication of its positive outlook. The print based exports are an example. We are pleased to reveal that in 2009-2013, Sri Lanka's print based exports have increased by a strong 25% to $ 101 Mn.  I also am pleased to say that, even my Ministry has, increased our support to the packaging sector. During 2013 and this year we have spent more than $ 42,000 to assist this sector. In 2013, we have facilitated, two national level packaging awareness programmes, for SMEs with 50 of them taking part. In 2013 and 2014, we spent $ 10,100 for Sri Lanka Packaging Certificate Course, in association with SLIP and INGRIN. We are also supporting today's Packaging event with no less than $ 15,300. Realising the importance of bringing in latest scientific and technological developments to this sector we have sponsored a free exhibition stall to the "Integrated Design Faculty of Architecture" of University of Moratuwa. My Ministry has been successful in enlisting important research, and development institutions such as SLSI, ITI and the National Cleaner Production Centre to this sector. In 2013 we sent 15 packaging sector participants to India for training, and again in 2015 we are planning to send another 20 Lankan packaging participants, to Indian Packaging Training Institute, Mumbai, at a cost of $ 15000."
Packaging industry hailed the government's support for it. "Sri Lanka's packaging industry is currently in need of investments and tech transfers" said JDC Perera (President, Sri Lanka Institute of Packaging). "We hail Minister Bathiudeen's call for green field FDIs to this sector due to their importance. We want strong overseas investors and I am very much supportive for this. Such green field investments also can draw in international tech know how here which is essential for us. Also, we praise the government and Ministry of Industry and Commerce for the enormous support given to us over the years. There is no doubt this has helped us in a great way" Perera added.